20 Most Promising Automotive Solution Providers - 2016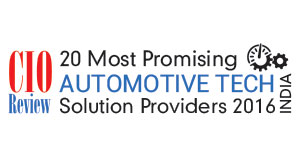 The automotive industry can be best described as one of the world's most important economic sectors. It consists of a large number of organizations involved in the design, development, manufacturing, marketing and selling of motor vehicles. The future will have an inclination towards technology driven trends that will completely refashion how we see the automotive industry. The gradual transition has already begun with the embedding of technology in this sector. All of this is giving rise to four groundbreaking technology driven trends in the automotive sector, them being diverse mobility, connectivity, electrification and autonomous driving. Enterprises have understood how industry players need to respond to changing consumer behavior, develop partnerships and drive radical change. Now that the shift towards electrical vehicles has begun, auto industries ensure they drive along the 'go green' lane as well. Yet at the same time everyone wants to be on top of the list with the ever increasing cutthroat competition and new products being constantly created and put out into the market. Organizations need the best vendors/partners who can understand their needs and current environment to give an overview to choose the right products for their future.
CIOReview comes to your assistance with a list of "20 Most Promising Automotive Solution Providers", a list that brings everyone with the technological skill and business acumen under one umbrella. It is a 'go to' list of sorts so one need not scout for a vendor to fulfill their requirements. A distinguished panel consisting of CEOs, CIOs, industry analysts and CIOReview editorial team have probed and scanned a diverse inventory of companies and settled on the vendors who in our opinion can change the entire outlook of the automotive industry for the better.
We present to you CIOTechOutlook 20 Most Promising Automotive Solution Providers - 2016.
| | |
| --- | --- |
| Abas Force (India) | A provider of ERP solution which comprises of customer relationship management, supply chain optimization, order tracking and financial reporting etc. |
| ACG Infotech | A provider of ERP solution for automotive industry |
| Altair India | A provider of Automotive CAE Simulation-driven design that optimizes performances like fuel economy, safety, durability, drivability, and comfort. |
| Autodesk India | A provider of software for addressing automotive industry's issues in each phase of the process including conceptual design, engineering, manufacturing, and marketing development. |
| Capgemini India | A provider of digital solutions for automotive OEMs and suppliers. |
| CarDekho | A provider of solutions for car research, finance, insurance, used cars and any other aspect of car buying and selling. |
| CSM Software | A provider of outsourced engineering services to customers in the Automotive industry (OEMs as well as Tier 1 Suppliers). |
| Cubastion Consulting | A provider of CRM consulting services, implementation and upgrades, managed services and trainings. |
| Embitel | A provider of design and development solutions for automotive control units. |
| EXCELLON Software | A provider of cloud based applications for managing Sales & Distribution, and Service Networks. |
| Finoit Technologies | A provider of automation solutions, inventory management systems, data migration and other solutions for the automotive industry. |
| incadea India | A provider of enterprise software solutions and services including Dealer Management solution, Tyre Solution and Customer + Vehicle Relationship Management solution to the global automotive retail... |
| Infor Global Solutions India | A provider of automotive solutions from global supplier collaboration to real-time order management. |
| IntelliPro Solutions | A provider of PLM, Telematics, ERP, MES and other solutions for automotive industry. |
| Magna Infotech | A provider of IT staff augmentation services across various industries including banking and financial services, automotive and engineering, telecom, healthcare, FMCG and retail. |
| MothersonSumi INfotech & Designs | A provider of software and services for product engineering, process development and production in addition to consulting and services for the automotive industry. |
| Siemens | A provider of a range of products, systems and solutions across all steps of the automotive manufacturing as well as customized solutions for infrastructure. |
| Spectrus | A provider of advanced engineering solutions and service accountability solutions to industries like Automotive, Energy and Marine, Aerospace and Defense. |
| Tata Elxsi | A provider of electronics, software development and system design services for the automotive and aerospace industry. |
| TVSi | A provider ERP, Vendor portal, Collaboration portal and other solutions for automotive industry. |