20 Most Promising Automotive Tech Solution Providers 2018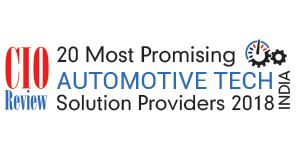 India, the second-largest automobiles market with close to 25 million units, has young population; low-cost manpower and dominance in digital technology to its advantage. In 2017, the Indian passenger vehicle market has achieved a new feat by moving up to the fourth position in the world in terms of volume, beating Germany. It is expected to become the third-largest by 2020, thus to become a cynosure in the eyes of global automotive industry. India's auto industry has a potential to generate up to USD 300 billion in annual revenue by 2026, creating 65 million additional jobs and contributing over 12 per cent to India's Gross Domestic Product. One can agree, the market for the automotive in India flourished and will keep flourishing due to the tsunami of software being built every minute to assist the auto makers and dealers cope up with the global market.
Automakers and dealers must focus on transforming the overall customer experience and ultimately develop into a trusted organization. An integrated customer experience strategy is key to building loyalty, retention, and consequently higher profit margins in sales and aftersales. In order to transform a customer from a buyer to a brand advocate, trusted relationships need to be built by injecting trust-building attributes into every customer interaction. Although dealerships will continue to play a significant role as primary channels for building personal contact and relationships with customers, we believe they will need to redesign their infrastructure to improve flexibility and accessibility. Consumer preferences necessitate the development of market-specific mixes of physical and digital presence along with new distribution models. These new distribution models will enable the industry to interact closely with customers, providing them with specific services and ad-hoc product experiences. Likewise, technology innovations have been reshaping the automotive manufacturing industry. Vehicle features that we could only imagine five years ago have now become reality. That includes ML & Computer Vision based safety solutions and smart factories.
A distinguished panel comprising of CEOs, CIOs, industry analysts and CIO Review editorial board has scrutinized several of such solution providers and finalized the list of 20 Most Promising Automotive Technology Solution Providers. We believe these vendors have all the capabilities and facilities to optimize latest technologies and offer exceptional solutions for confronting challenges in the evolving automotive industry.
We present to you CIOTechOutlook 20 Most Promising Automotive Tech Solution Providers 2018.
Top Automotive Tech Solution Providers
| | |
| --- | --- |
| Autorox | A provider of car garage/workshop management software that incorporates instant real-time estimates, insurance billing, and spares management. |
| Chivaro Technologies | Offers complete range of technology solutions that encompass design, analysis, simulation, prototyping, testing, manufacturing and life-cycle support. |
| Cogxim Technologies | Renders services around application development, open source customization, business consulting, online marketing consultation and web designing. |
| Cubastion Consulting | Focuses on CRM consultancy across Automotive, Consumer Durable, Financial Services, Communication, and Telematics. |
| DesignTech Systems | Core expertise revolves around Automotive CAD & CAE and Automotive Engineering. |
| Elektrobit | A supplier of embedded and connected software products and services for the automotive industry. |
| Eyedentify Systems | Facilitates vehicle tracking solutions, real-time monitoring solutions and surveillance systems. |
| Falconnect Technologies | System Integrator startup working on end-to-end digital solutions in the Automotive Independent Dealerships with Dashboards, Multi-Channel Sales, Lead Management & Scoring, Business Profile,... |
| Horus Intellisys | Builds solutions around automotive collision avoidance (CAS), driver/vehicle behaviour analytics, HUD while setting up an incident support eco-system. |
| iASYS Technology Solution | A system integrator in the field of Automotive Testing & Data Management Solutions for R&D and EOL. |
| Ineda Systems | A provider of Silicon and platform solution in the area of Automotive and IoT applications. |
| Naraiuran Controls | The portfolio comprises air bag checking system, air bag handling, brake assembly station, front & rear brake station data logging, gear box assembly test and injection moulding MC. |
| NGE Automotive | A software and hardware design house specialized in automotive applications. |
| PathPartner Technology | Offers design, development and integration services in advanced embedded technology. |
| Redbytes Software | Develops solutions for locking & unlocking, seating management, engine start/stop, temperature control, automatic routing, automatic allocation and vehicle health monitoring. |
| Smart Enovations | Specializes in product design & development, virtual simulations & design validation, electrical & embedded systems, project lifecycle management, and IT services. |
| Think7 Business Systems | Develops a wide range of automation solutions in order to enable smart and connected factories. |
| Trackpoint GPS | Provides end-to- end hardware, software and services in the consumer and commercial telematics space. |
| Trak N Tell | Deploys Telematics systems that synchronize vehicular intelligence data for reproducing meaningful and predictive insights. |
| Valethi Technologies | Delivers enterprise products, e-commerce solutions and custom software across verticals such as healthcare, logistics, construction, and hardware manufacturers. |