20 Most Automotive Technology Solution Providers - 2019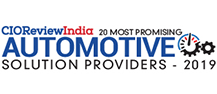 Several studies conducted suggest that the Indian automotive sector will become the third largest market by the year 2021. The industry is embracing customer centricity as customers display superior levels of product awareness, increasing spend capacity, changing expectations and insist on personalised products and services. Advancing technologies such as big data, machine learning and artificial intelligence are playing a key role in personalizing the customer experience. In tandem with this, government bodies are redirecting its focus on better promoting green vehicles and placing importance on stringent emission and safety norms.
The convergence of various trending technologies and the automotive industry is only adding to these complexities. Therefore, the industry must reinvent itself in order to establish new ways of creating and delivering value to its customers while ensuring the developed technologies are affordable and easily accessible. The industry will continue to witness growth as the automotive industry partners with a significant technology solution provider to help produce a comfortable, equipped and secure vehicle and increase sales productivity. However, an increased number of automotive technology solution providers have begun penetrating into this market that lack skilled talent and solutions that can meet these business requirements. In conjunction with this, India is a price sensitive market where the industry stakeholders are in dire need of experienced solution providers that possess skilled talent, domain expertise and proven solutions at an economical cost.
After careful consideration and having conducted an extensive research, CIOReviewIndia comes to the aid with a compact list of "20 Most Automotive Technology Solution Providers - 2019". It encompasses skilled vendors that offer the right solutions in parallel to advancing technologies in this domain. A well renowned panel of CEOs, CIOs, industry analysts and the CIOReviewIndia editorial team have finalised the vendors featured in this listing.
We present to you CIOTechOutlook 20 Most Automotive Technology Solution Providers - 2019.
Top 20 Most Automotive Technology Solution Providers
| Company Name | Company Description |
| --- | --- |
| SecureThings | Provides multi-layer and real-time cyber security solutions for connected vehicles. |
| | |
| --- | --- |
| A2Mac1 | Provides services such as market documentation, complete vehicles teardown analysis, 3D scans, advanced analysis on all vehicle perimeters, functional tests etc. |
| ANSYS | Offers engineering simulation software solutions that predict the behaviour of product designs and operations of the manufacturing processes. |
| AutoSmart | Provides Specialized Ready-made applications which include Automobile Field Audit Application, Diagnosis FIR System, Final Inspection App, Kaizen Idea Management, Automotive Talent Solutions,... |
| Avertra | Caters to Automotive industry with Consulting, Information Technology and Predictive Analytics. |
| Bosch | Offers IoT-based mobility solutions and Autoparts & Accessories services to the Automobile industry. |
| Cubastion Consulting | Caters to Automotive industry with Siebel CRM to deliver services from dealers to field. |
| Dassault Systemes | Provides project life-cycle management solutions that enable businesses to create and share experiences in 3D. |
| Excellong Software | Provides platform for AI, IoT, Social Media, payment gateway and vehicle locator with multi-currency and multi-lingual compatible solution. |
| HERE Technologies | Offers Navigation & Infotainment, Autonomous Driving, Advanced Driver Assistance Systems and Over-The-Air Software Management solutions. |
| KPIT Technologies | Specializes in delivering embedded software, AI & digital solutions to the Automotive industry. |
| Oracle | Offers open cloud solutions from software to platforms for Automotive OEM Industry and also comes with range of Automotive Suppliers Features. |
| Samvardhana Motherson Group | Caters to Automotive industry with its range of design and manufacturing solutions. |
| Siemens | Caters to Automotive industry with the approach of creating Digital Twin of product, production and performance. |
| Sloki Technologies | Provides product development, product engineering and professional services to the Automobile industry. |
| SPINTeQ | Offers Automotive Enterprise Solutions which include Mobile Resource management, Field force management and Workshop Automation platforms. |
| TATA Technologies | Offers Engineering services, PLM, and Connected Enterprise IT solutions. |
| Tech Mahindra | Delivers various services from engineering, Supply Chain, Manufacturing, to Sales and marketing, after sales and many more. |
| Visteon | Provides AI for self-driving cars, solutions for connected car with advanced cybersecurity. |
| Yamaha Motor Solutions | Delivers a range of IT services and solutions from BI & Analytics to Enterprise/Industry Solutions and many more. |